Full name and it's meanings:Edit
Faustino
= Italian, and Spanish form of Roman Latin Faustinus, meaning "lucky."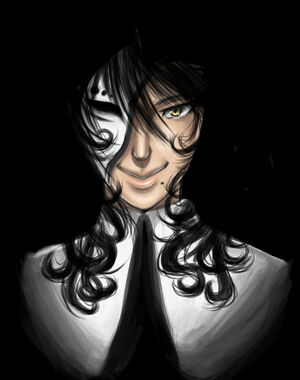 Ilario = Italian form of Latin Hilarius, meaning "joyful; happy."
Infelice = Italian word for "Unfortunate"
[King Etienné & Queen Mirella's 2nd Child]
Bio:
Gender: Male
Height: 180 cm
Weight: 90 kg
Life span: 1832 - 1857
Died at the age of: 25
Death: Killed
Revived year: [/2009]
Nationality: Father = Italian & Mother = French
Item: Cupcakes
Etienné[1] (Father)
Mirella[2] (Mother)
Belial (Oldest Brother)
Raneiro[3] (Third to oldest Brother)
Lalia[4] (Sister)
Dante[5] (Youngest Brother)
Évariste [6] (Uncle)
Nevio (Grandfather)
Aagave (Grandmother)
Eliodoro (Great-Grandfather)
Eulália (Great-Grandmother)
Section heading
Edit
Write the first section of your article here.
Section heading
Edit
Write the second section of your article here.
Ad blocker interference detected!
Wikia is a free-to-use site that makes money from advertising. We have a modified experience for viewers using ad blockers

Wikia is not accessible if you've made further modifications. Remove the custom ad blocker rule(s) and the page will load as expected.